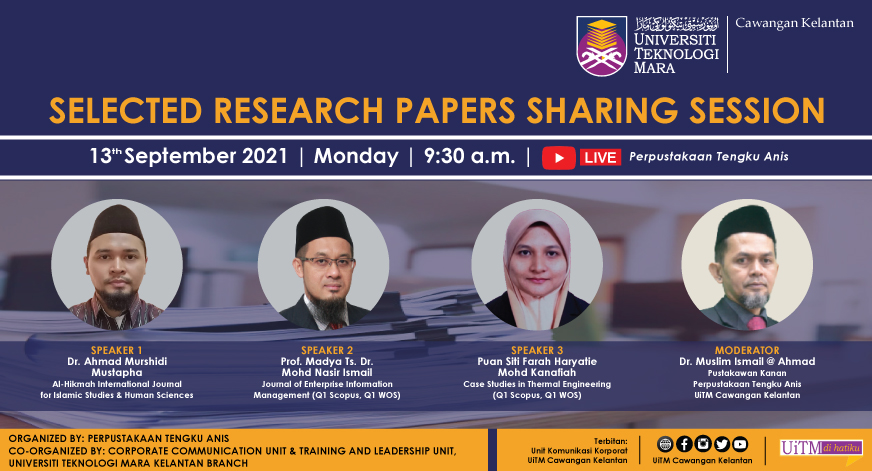 We are pleased to invite all lecturers to join Selected Research Papers Sharing Session. This program is organized by Perpustakaan Tengku Anis (PTA) and co-organized by Corporate Communication Unit & Training and Leadership Unit Universiti Teknologi MARA (UiTM) Kelantan Branch. Program details are as follows:
Speaker 1: Dr Ahmad Murshidi Mustapha
Speaker 2: Prof. Madya Ts. Dr Mohd Nasir Ismail
Speaker 3: Puan Siti Farah Haryatie Mohd Kanafiah
Moderator: Dr Muslim Ismail @ Ahmad
Date: 13th September 2021 (Monday)
Time: 9.30 a.m.
Platform: Youtube Perpustakaan Tengku Anis
Link: https://www.youtube.com/watch?v=tM4nPeCwAhs
CLICK, SUBSCRIBE NOW & SET REMINDER 🔔‼️
Looking forward to seeing you during the program. Thank you.
"WAWASAN KEMAKMURAN BERSAMA 2030"
"BERKHIDMAT UNTUK NEGARA"
UiTM Cawangan Kelantan
#KitaJagaKita
#UiTMDihatiku
#UiTMCawanganKelantan